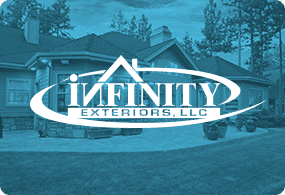 Infinity Roofing
Thanks to Infinity Exteriors' Superb Marketing Company...
Infinity Roofing has been able to obliterate the Milwaukee and Waukesha market to become the largest roofer in the state of Wisconsin. With the brand "Warrantied Guaranteed Quality" and a barrage of perennial customer satisfaction awards for outstanding service, Infinity Exteriors has never once been in danger of slowing down. The most superb roofer marketing agencies in the world could only dream of growing a company the way iNET Marketing smoked the competition on behalf of Infinity Exteriors LLC.
Advertising Agencies for Roofers
Roofers are people too. Sadly, advertising agencies for roofers never used to exist. For whatever reason, it doesn't seem like it was until iNET Web came along that so many blue collar businesses ever had a chance at marketing that actually works. With changing times, the days of Yellow Pages have come and gone. iNET Web offers power beyond word-of-mouth and overpriced billboards. Our radio campaign and its measurable results are the work of an ad agency that is a force to be reckoned with.
Want YOUR business to be the one making a ton of money next? Drop a quick line to our Waukesha Marketing Agency today.