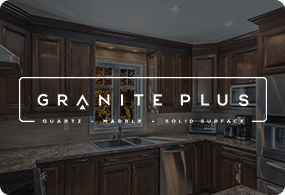 Granite Plus
Marketing Agency for Kitchen Remodeler
Milwaukee-area business Granite Plus started as a way to get affordable granite and stonework into Wisconsin kitchens and bathrooms for the same price value as larger markets like Chicago. The owner successfully put a crew in place, securing a vendor who could keep costs down for all marble, quartz, and other materials. Granite Plus then became an official kitchen remodeler in need of one more thing: a marketing agency.
Along with a flawless website sitting at the top of search engines for all terms related to custom stonework fabrication, iNET conceived the creative genius inspired brand, Granite Plus Stone Equals Less Cost (also commonly written as Granite + Stone ='s > Cost). How many New Berlin home remodelers get to wield a brand of this magnitude? One.
Radio Advertising Sells Thousands of Kitchen Countertops
When you have a strong brand, that brand is going to connect with potential customers. iNET makes sure Granite Plus has more business than they can handle. A marketing agent must get the most buying power for their clients, and lucky for Granite Plus, iNET Marketing buys more radio in the state of Wisconsin than anyone. The measurable result? Radio advertising has and continues to sell thousands of kitchen countertops for Granite Plus.
Still saying, "What's in it for me?" Contact the best New Berlin Marketing Agency ASAP to start raking in business.